Did you know that the average cost to your business of a weeks sick leave is NOK 13 500 (£ 1 275, $ 1 700)?
EXPAIN Change – reduces pain by removing the cause
EXPAIN Change Neck & Shoulders prevents and removes the cause of neck/shoulder pain. Neck/shoulder pain is one of the most common causes of sick leave. The problem with current treatments is that they do not take away the cause of the pain. We talked to several physiotherapists, and they say that their average patient with neck/shoulder pain need a minimum of 10 treatments and that sick leave period is long.
Norwegian Institute og Occupational Health, STAMI, research has found a relationship between sustained muscle activity and pain. EXPAIN Change Neck & Shoulders alerts with a gentle vibration when the user's muscles are tensed over time, either by static or dynamic work. Users are enable to remove the cause of their pain by introducing microbreakes when alerted of sustained muscle activity. A micro break is a short break where the muscles rest and blood flow in muscles is optimal. A micro break in the neck/shoulder muscles can be obtained by dropping down the shoulders, do some stretches or some exercises in order to restart blood flow. The secret lies in doing this regularly throughout the day and not get stuck with shoulders raised. The neck/shoulder muscles tenses automatically when a person is stressed, and when stressed its even harder to think about ergonomics or taking regular breaks. This is where EXPAIN Change Neck & Shoulders comes into play.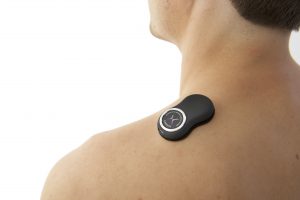 Many are told that they must improve posture and ergonomics, but fails to implement the changes needed. Our Change Products reminds you with a gentle vibration every time you contract the muscles in a way that can lead to pain. The products can also be used to see the current muscle tension on a smartphone and thus make adjustments based on this. You can see when you are tense or not, and see which exercises or movement that provides a micro break. After using a Change-product for a while the strength of Biofeedback (which is to see signals from body you do not normally feel) kicks in and enables long term habit change. The user will even recognize when their muscles are tensed and be more aware of how to use the muscles. Read more about idea, development and research behind expain Change here. EXPAIN also offers the same solution to forearm/elbow pain with EXPAIN Change Arm.
EXPAIN Relax – massage, relaxation and stress reduction
Regular breaks during the work day reduces stress and lowers the risk of diabetes (according to resent research). EXPAIN Relax massage gives pleasure and massages away stress and muscle tension. A treatment with one of our massage products lasts 15-20 minutes and is a perfect stress-reducing break. We can offer package solutions adapted to your company size (number of employees).